Argh, it's been so long, and I humbly apologize! Yesterday marked the one year anniversary of the DVD release, and while we at Dark Maze have been working on some new projects like RoboGirl, Press Start has never been far from our minds. Indeed, Press Start things have been brewing. The unfortunate part, of course, is that they've been taking so long to brew, like a soup that has to simmer for a… long time. Yeah, okay, analogy over. So lemme answer a few questions that have come up recently, starting with the biggest one: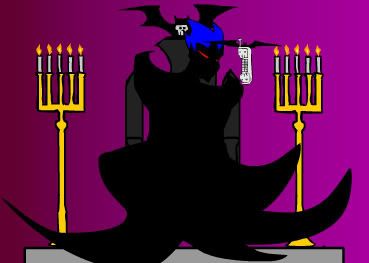 Will there really be more Press Start cartoons?
YES, absolutely! We've got 10 more in the works RIGHT NOW, we promise, and they're great. Things were delayed for a number of reasons, but they're coming back with a vengeance. Let's see, what can I say without giving away too much?
Remember how Vlad popped up a couple of times in previous episodes? Well now he's a regular character — and, as mentioned a couple posts below, David Humphrey has returned to voice him! See, Count Vile is in a bit of a pickle, and he needs his vampire pal to help him out with a new scheme…
Also, Zack Nimbus has joined Sam and Lin-Ku in their animated adventures! And in case you've been missing them, Plumber Pete, Buzz Porcupine, Trenton Belfast, Scarthcaroth, and a slew of others are back, too! Plus you'll be seeing some new additions to the Press Start universe.
I can't say for sure how soon they'll be available (right now the writer/animator/Lin-Ku and the Life Lady are planning their wedding next month!), but I'll absolutely keep you posted. I'll say this though: by the end of the year, we'll have at least a few episodes all done. I'll be revamping the Press Start Adventures website shortly, and in the meantime here's some new poster art, just to prove we're serious:
There's also the possibility of a Press Start Adventures DVD (with special features, of course!) once this new batch of toons is finished; I'll keep you posted as I know more.
What type of microphone do you/the voice actors use? I was shocked by how clear the voices of the characters were in Bonus Levels.
Thanks! When we first started doing Bonus Levels, all the dialogue was recorded on cheapo Logitech headset mics. A lot of care was put into keeping the levels good, not breathing into the mic, and avoiding those nasty plosives from "p" and "b" words. Nowadays we use a Shure condenser mic with a pop filter, but we also have voice actors from around the country who use their own gear.
Was Zack Nimbus's design inspired by a particular game character?
Zack, like all the characters, was really an amalgamation. We took our favorite bits from a bunch of RPG and adventure game heroes and put them all into our own spiky-haired protagonist.
Will you be making more Press Start live-action spoofs?
For that one, regrettably I have to answer no, at least for the time being. And there's a lot of reasons for that. The fact is, it's a miracle that the costumes, props, and sets even lasted long enough to make the movie! By the end, all were either falling apart or destroyed entirely. We salvaged just enough to make Press Start: Bio Haphazard, but pretty much everything is gone now. On top of that, the time, resources, and expense required to do more is just too high at the moment. And we still haven't touched on scheduling, which has become ever more difficult as the gang has acquired full-time (or in some cases more than full-time) jobs.
But that hardly means the end of Press Start! More cartoons are in the works, and I'd love to wrangle a serious budget for a sequel. So don't give up — the game's not over yet!
Have more questions? Email me! The inbox is always open.